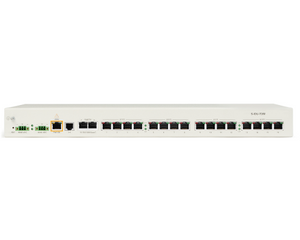 SM Sygnus Smart IDU with 16 TDM ports, Gigabit PoE and 2 Gigabit Ethernet interfaces, 19″ rack
Part Number: SMS-SMARTIDU-16T1
Manufacturer: Star Microwaves
Category: Microwave
Data Sheet  Installation Manual
Product Description:
SM Sygnus Smart IDU
Microwave Wireless TDM Transport Solution
Smart Indoor Unit (S-IDU) is the ultimate TDM over IP solution for carriers' Ethernet services with ultra low latency and low jitter connectivity. S-IDU enables transmitting up to 4 E1/T1 over SM Sygnus SHC, VHC Point-to-Point wireless backhauls with ultra-low latency, low jitter connectivity, 1+1 backup redundancy and minimal power consumption. S-IDU is a TDM over IP solution that converts E1/T1 streams into packets for transmission over the network. The ASIC-based architecture provides a robust and high performance solution with minimal processing delay.
Product Features
Scalable 1x E1/T1 up to 16x E1/T1 via software upgrade
Support for both framed and unframed E1/T1
2x GigE 10/100/1000 Base-T Ethernet interfaces
ASIC-based architecture minimizes processing delay
Configurable jitter buffer compensates for network packet delay variation
Built-in 802.1p & 802.1q based Quality of Service (QoS)
4+4 dry contact alarms
Highlights
1+1 hot standby with automatic switchover less than 50ms.
Highest capacity, extremely low latency and interference rejection technologies are optimized for TDM over IP traffic.
Built in GigE PoE
Fully integrated with NMS, SNMP and webbased management.